December 03, 2009
Baghdad, Iraq
Despite its reputation as a city of tragedies, Baghdad's pulse still beats on. Movements are slowly unravelling in a city that has been isolated for over 30 years. Blocked from all entry and exit points, the people of Baghdad, tourist-less, own their city. The alleys, the garbage, the dust, the old homes, the palm trees, the monuments the media made famous, are their own.
When its only your eyes that fall on filth, will you clean it or will your eyes become accustomed to the accumulation of decades of dust and dirt? When it is only your eyes that fall on beauty, will it cease to become beautiful or will you try to maintain its charm?
Those are the questions I find myself asking here in Baghdad, five years later.
Despite its reputation as a city of great beauty, Baghdad is still plagued by both random and organized violence, insecurity, and a foreign occupation. Flying into Baghdad, the view from the top was breathtaking. The landscape of the city is ancient. The criss crossing of the Tirgris through a maze of fertile land, a bustling cityscape, and ancient landmarks makes it crystal clear that the land that Baghdad is built on is special on many levels. Special enough to want to invade, and have for yourself.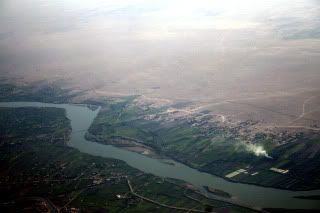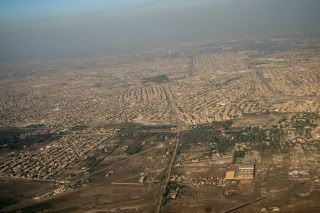 Tragedies are plentiful.
The perseverance of the people is highly respectable, especially for those of us that have led relatively sheltered lives in politically stable environments. There is hunger and thirst, but the people are proud. Hunger and thirst both metaphorically and on a real level, of course.
The lack of a tourist experience in Baghdad has created a void too great to try to amend. In the past 25 years as a visitor to my native land, I have never seen a tourist. War tourists, perhaps, or what I find better defined as NGO workers, journalists or activists. War profiteers aplenty, better defined as opportunists with a macabre disposition. But a tourist who chose to travel to Iraq to visit ancient sites, tourist attractions, or cultural events? The closest we have gotten to that is a tourist like me; an Iraqi with a foreign passport who has been denied the chance to regularly visit their native land due to the past 40 years of it alternating between different wars, a brutal dictatorship, US interference, and economic sanctions.
I suppose this feeling comes strong to me right now because I have been a tourist in many of Iraq's neighboring countries in the past five years. I recognize that this is a privilege that not many Iraqi's enjoy. In the recent past, I have been a tourist in the UAE, Lebanon, Syria and Amman. These are countries that thrive on tourism, and the people develop an interaction with their visitors- they learn, they teach, they share, they serve and they grow.
My hope for my native land, at this point in my contemplations, is that one day the doors to this magnificent country will open up to people of all kinds so they can share in the beauty of Baghdad. I want people to see why I love Iraq so much. I want them to recognize that we are all from this land, that it belongs to all of us. The history here is undeniable, but today, there is a chokehold on this little chunk of land in the middle of the east. I hope that the future will loosen the grip of the greedy and give back to the needy, because we all need to see Baghdad before we die. Or yet, before Baghdad dies.