December 07, 2009
Baghdad, Iraq
Today was my second visit to the Ministry of Culture. I met with the editors of Tashkeel, a magazine that is both produced and printed in Iraq about Iraqi modern and contemporary art.
I learnt much today that I very much want to share with the world, but it will require more time and dedication to my writing to truly give an detailed account of my impressions and my learnings at the Iraqi Museum of Modern Art. I had great privilege today to not only visit and view the works, but also to talk frankly with artists and writers that work within the Iraqi art scene. The experience I had there today and the information I received from these good people will affect me in my own practice forever, on many levels.
Art and cultural production in Iraq is not dead, despite the waning pulse line of the city's cultural life. Today I met people that work with a passion for the arts and culture of Iraq in environments and conditions that are... unfit. Stifling. Isolated. Underfunded (if funded at all). Dangerous. But they persevere, and for that, all of us who work in the fields of art and culture must applaud them.
The employees at Tashkeel have done a good job in archiving the works at the museum both on paper and digitally, and have a humble library. However, they need books, and resources to connect them to the world.
As I meditate on what I learnt today, I encourage my readers to read some of Dr. Nada Shabout's writings about the events that unfolded at the museum after the fall.
On related note, I had the pleasure of viewing more of the museum's collection of Iraqi art. My eyes devoured what was left of the fantastic pieces after the looting of 2003...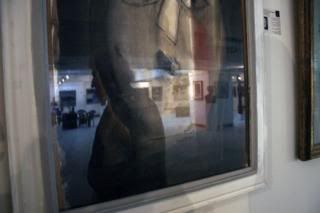 I am madly in love with the works of Mahood Ahmed (below). I cannot describe the power that his works have over me.