I was able to make it to Palestine because I was invited to take part in the Al-Mahatta International Artists Workshop. 20 artists from all around the world gathered together at the Edward Said National Conservatory of Music in the West Bank town of Birzeit to create art, brought together by the wonderful people at Al-Mahatta Gallery.
The weeks before my arrival to Palestine, I had been going through a serious catharsis, in all senses of the word. When it came down to my own art practice, after completing Warchestra, I was searching for a new direction to my work. Finding myself pushing further and further away from politics, a world from which I felt was bottomless, and my own reassessment towards my identity as an Iraqi, I felt lost. Wounded emotionally and spiritually by what was happening politically in Iraq, I was trying to further myself from those two elements. However, upon arriving in Palestine, focus fell on politics and identity. Non-surprisingly, of course. Whatever I tried to push away from my spirit came back stronger, pushing harder towards me, almost forcing me to accept its presence in my life. Yes, I am a politicized identity, as we all are. Yes, I am Iraqi, and I am proud to be an Iraqi. Instead of allowing these two factors to be a weight upon my shoulders, a darkness enveloping my creative sphere, a public burden, I accepted them. I still don't know how the shift occurred, or what the pivotal moment was.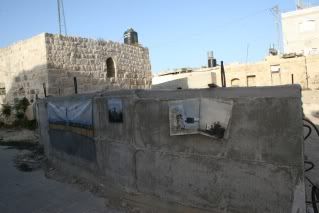 The work I created in Palestine is personal, rather than political. But of course, as a politicized identity, the personal is always political. In collaboration with my sister Tamara's photography, these paintings are about hope, imagination and freedom. They can be set in Palestine, Iraq, or anywhere in the world where walls separate the people, and children must dream of a brighter future.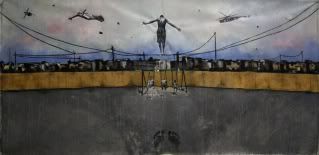 I took this aerial photograph of Baghdad in December 2009.
The book, "Souls Land: Closing" is made of my photographs taken in Baghdad in 2004 and 2009. This personal book offers glimpses into Iraq through my eyes. It is about my own search for identity, my love for my homeland, and the devastation it has suffered as a result of the ongoing war.
Displacement, distance, and devastation.
In a way, this book is a symbolic closing of a chapter in my life.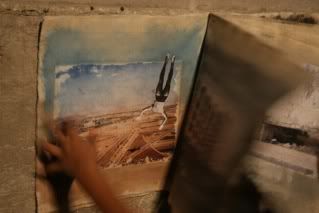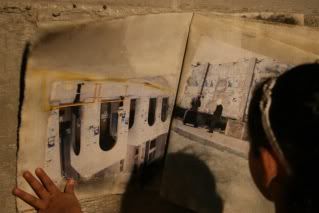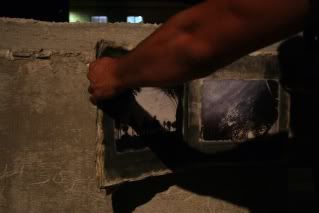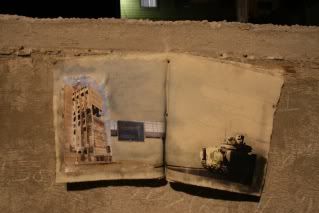 I don't know what else I can say about my experience in Palestine without stripping it of its authenticity. I think its best to keep it as it is and allow for this period in my life to come out through my future work, and not these limiting words.
"The visible world was made to correspond the the world invisible and there is nothing in this world but is a symbol of something in that other world."
(Abu Hamid Muhammad al-Ghazzali, 11th Century)